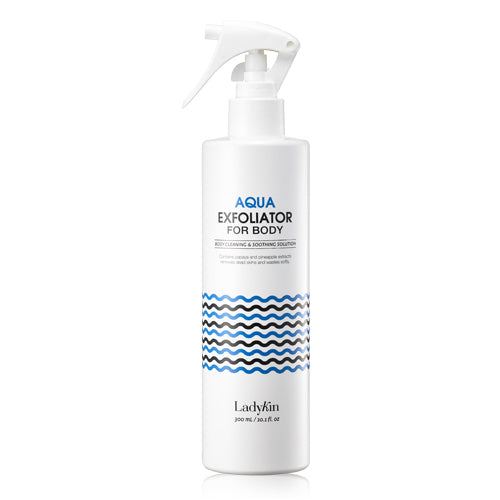 Ladykin
LadyKin Aqua Exfoliator for Body
---
About the product 
This Aqua Exfoliator For Body is a high-performance body scrub which luxuriously eradicates all traces of dead skin cells, dirt and daily grime from the skin.
Formulated using Enzymes, Aqua Exfoliator For Body naturally removes dead skin cells without the requirement for harsh and abrasive scrubbing, making it a certified must-have for anyone with sensitive skin.
Infused with seventeen types of Vegetable Extracts, Aqua Exfoliator For Body polishes the skin at a cellular level whilst boosting the levels of Vitamins and Antioxidants for a replenished appearance and a touchably soft texture.
Combining Collagen and Hyaluronic Acid, Aqua Exfoliator For Body restores the skin's natural elasticity, instantly providing firmness, plumpness, and youthfulness.
Say goodbye to rough, hard skin with the revolutionary Aqua Exfoliator For Body.
Tip: Apply more product to the typically rougher areas of the body such as the knees, the elbows, and the heels.
Key Features
  Softly remove white floating dead skin cell.
· Contain 17 types of vegetable extract.
· Absorb armpit odor and sweat.
· Help changing dark and rough skin into clear skin.
· Excellent water retention power. Moist and elastic skin.
· Pack Size - 300ml
---
More from this collection
---