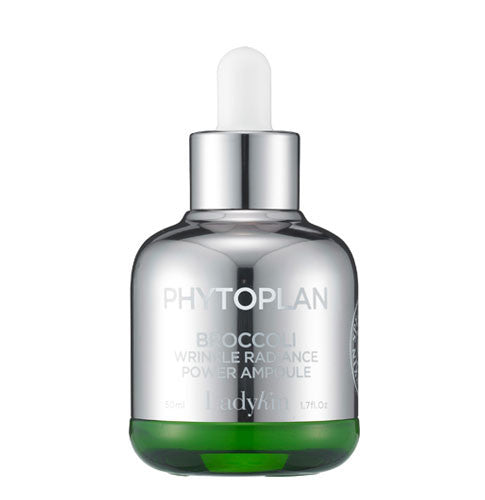 Ladykin
LadyKin Phytoplan Broccoli Wrinkle Radiance Power Ampoule
---
Has 18 kinds of vegetable extracts.

 
Whitening and Anti-wrinkle dual functional essence.

 
Broccoli Extract 75% - Containing not purified water but 75%of broccoli extract water, it helps to relieve the skin stress and provides vitamin, mineral, and moisture so that reduces itching from being dried.

 
Contains 18 Kinds of Vegetable Extracts - It not only contains 5 kinds of superfood which are broccoli, Almond, Blueberry, autumn squash, and orange, but also has raspberry extract, Allantoin, Shea butter, etc in it, it helps the skin balance, resilience, and moisturizing. It also provides supple vitamin and nourishment, makes the skin vital and beautiful.

 
Bamboo Leaf Extract - Containing Bamboo leaf extract, Korea patent registration No. 10-0639408, a cosmetic composition containing bamboo leaf extract that suppresses skin damage caused by UV and has a whitening effect.

 
Dual Functional – Whitening and Anti-wrinkle effects.

 
Containing Niacinamide and Adenosine, it is highly effective for Whitening and Anti-wrinkle.

 
Free Mild Formula - Free paraben, Free sythentic pigment, free benzophenone, Free animal originated ingredient, Free mineral oil.

 
How to Use:

 
Apply it after using skin toner.

 
Pay particular attention to your deepest wrinkles.

 
Pack Size - 50ml/1.7oz
---
More from this collection
---